By Bob Walsh
If you're not already using Google's new Desktop Search (Beta 2) released a couple of weeks ago as part of your Getting Things Done process, you are missing out on a seriously useful tool that costs nothing.
With this latest version of Google Desktop (GD):
* Most of the pain of using Microsoft Outlook goes away,
* You can quickly find the information you need right now from a variety of sources,
* You can stop worrying about where your information resides.
In future posts here, I'll illustrate the second and third points, but for now, I want to show you how win the battle with Outlook. Once you've installed GD, you'll find that two manifestations of Google: a new Google Search toolbar in Outlook, and a Google Search toolbar in your Windows Task bar or along the right hand side of your desktop (the Google Sidebar).
Given Google's ultrafast search, every incoming email can be processed the correct GTD way:
* If its not an actionable email that triggers a specific task it gets dumped into Reference. I used to have over a hundred folders for all my email – project folders, vendor folders, folders within folders within folders. No more. Save non-actionable to Reference, and let Google sort them out.
* If an email does mean I need to do something on of my current projects (taking longer than 2 minutes), I dump it into to that project's folder in my Favorites Folder list. I've "promoted" just my current project folders to be Outlook Favorite Folders (an Outlook 2003 feature). Even if I miss and dump it in the wrong folder, Google can find it in an instant.
* I can use Outlook's email into appointment feature to deal with anything that should be an appointment.
* My Inbox gets emptied and stays that way every time I check email, and that a very nice feeling.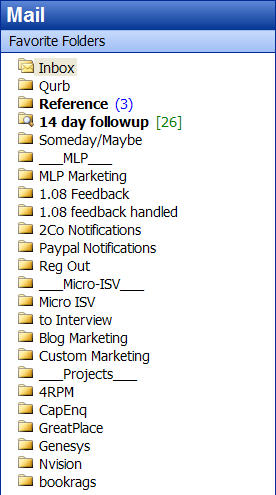 (Dumping to Reference and letting Google sort it out.)
You can search emails alone via the Google Search Toolbar, but I prefer the incremental results search I get using the Google Search Toolbar in Windows Taskbar.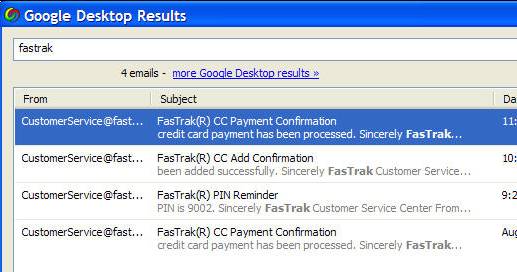 (Google Desktop Search Results.)
Here's what I got as typed in "to":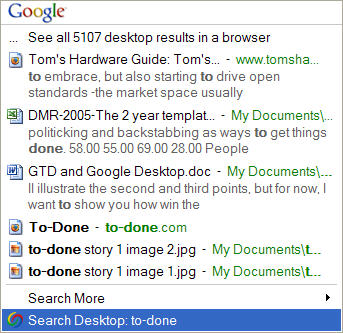 (Incremental Search in progress.)
Often, I'll spot other things I need at the same time.
Needing and using one search engine for everything from the web to my files and emails make life easy, and just as there are little power tricks for searching the web with Google, there are desktop search tricks (more tricks here):
* subject:spirit returns all emails with the word "spirit" in the Subject: field.
* subject:"Will Eisner" returns all emails with the exact phrase "Will Eisner" in the Subject: field.
* subject:(spirit eisner) returns all emails with both words "spirit" and "eisner" in the Subject:field. Both words must be present in the Subject: field, but they can be in any order and do not have to be next to each other.
* subject:spirit eisner returns all emails with the word "spirit" in the Subject: field and the word "eisner" anywhere in the email, including the body.
Bottom line, I get back all that time I used to spend trying to "manage" all the non-actionable emails I had to spend in Outlook, and like you, I can really put that time to better use!
Author Bio: Bob Walsh divides his time between improving and selling MasterList Professional, a personal task management application, writing a book for Apress (Micro-ISV: From Vision to Reality) on how to start a self-funded startup, blogging here and at http://www.todoorelse.com, writing custom software applications for companies with needs and budgets and trying to remember what the words "time off" and "vacation" mean. He can be reached at [email protected].