By Bob Walsh
So you're Getting Things Done, you've defined your projects, implemented your productivity processes and are humming right along with the future's so bright you need sunglasses, right?
Maybe not.
Are you actually being productive? Or do you think your being productive while all your time is being nibbled away by non-productive activities? Trust yourself – but verify you are Getting Things Done with a Time Audit.
h3. A Time Audit is Simple
Doing a Time Audit is so simple, you can't avoid it. You can download a free Excel template here if you want, or just take a piece of paper and write down your top 10 activities and add a grid 1 week wide by however long your day is long, divided into 15 minute intervals. Why 15 minutes? An hour is a long time in our multitasking interruption-driven world; 5 minute intervals are too short: all you will get done is the Time Audit.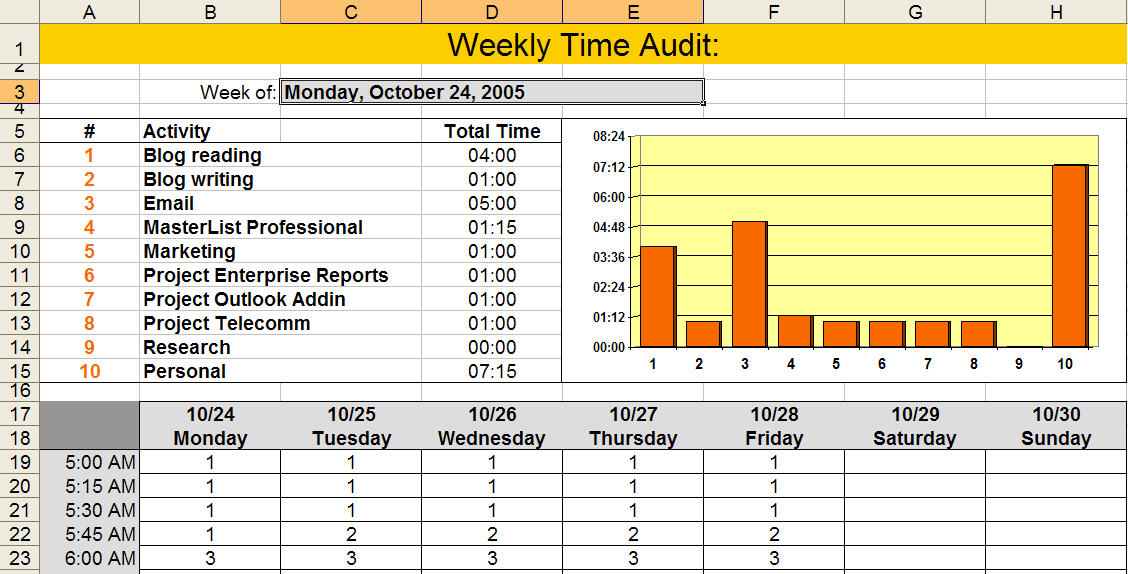 This template is yours at: http://safarisoftware.com/landGTD.htm.
As you work away- or after you get our of the meeting, conference call, workout or lunch – mark that time as one of your 10 activities, or leave it blank if it was just totally off them map. Each day, total up where you time is actually going.
You are not going to be a happy camper reading those results unless you've already achieved glow-in-the-dark Getting Things Done-ness. If you have, congratulations! If not… well, the truth will set you free, and in this case it will set you free from all those non-productive, non-Getting Things Done things leaching away your time.
P.S. Don't tell your boss you're doing this!
Author Bio: Bob Walsh divides his time between improving and selling MasterList Professional, a personal task management application, writing a book for Apress (Micro-ISV: From Vision to Reality) on how to start a self-funded startup, blogging here and at http://www.todoorelse.com, writing custom software applications for companies with needs and budgets and trying to remember what the words "time off" and "vacation" mean. He can be reached at [email protected].