By Bob Walsh
A few days ago thanks to Keith's kind invitation, I talked about how the new free beta of Google's desktop search engine can make your e-mail life easier. I say e-mail life, because odds are good if you are reading this, you spend a good part of your life answering and writing e-mail!
In this post, I'd like to share with you a simple Google/Outlook trick that will immediately improve your productivity in certain common situations.
Now, we all know Outlook's New Item alerts are like little leaches that suck away your focus, time and attention, right?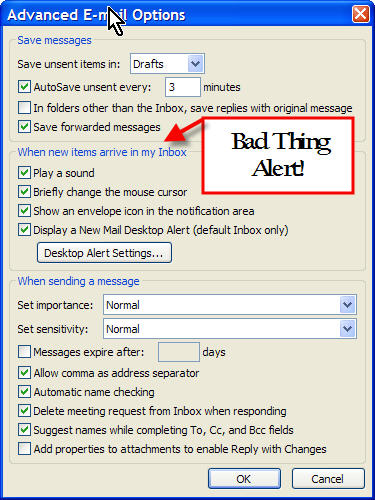 Do not do this at home; do not do this at work!
Over the past few years, I've seen about a dozen business executives and managers respond like Pavlov's Dog to the ding of an incoming e-mail. The more dings, the more they could respond, the more they could do something, even though it was anywhere from a complete waste of time to responding to something they should do later.
Being a writer, a micro-ISV and a contract programmer, I can't afford to be cattle prodded out every five minutes out as I'm coding or writing: a slew of these interruptions completely ruin a Flow (more on what I call Butterfly Stroke Productivity in a future post here.). So I've set Outlook to never interrupt me as a rule.
But on the other hand, there are times when you damn well better be ready to respond to an email, heads down being productive or not. So, how are you going to know about a must-read email from a client, or God Forbid, an Editor? Google Search in Sidebar mode is the answer.
Here's a picture of part of my desktop recently. I've in a Flow, but I had to keep an eye out for an email I needed to respond to. Instead of letting Outlook Email Alerts out of its cage, I let Google Search morph into its Sidebar mode.
Watch, but don't touch, your email while you're getting things done.
With Google in Sidebar mode I could watch my email flow, but not get engaged in it until and if the email I was waiting for came by (It was the AdWords email, but that's another story.)
Another great advantage is that I could in 10 seconds flat write a note to myself in the Scratch Pad Panel of Google's Sidebar, then later do it if it only took a minute or add it to my MasterList Professional without breaking my concentration. Depending on what you're world looks like, you can watch news headlines, weather, RRS feeds and IM flow by in Google Sidebar, but not lose your focus on the task at hand.
I'm dead certain that as Google pumps more developer resources into this whole Sidebar thing, this tool is going to get ever more useful. Add in Microsoft's totally coincidental resurrection of the Sidebar in Vista and I think you'll be seeing more of this kind non-invasive information flow management.
The worse thing you can do for your productivity is let others control your attention!
Author Bio: Bob Walsh divides his time between improving and selling MasterList Professional, a personal task management application, writing a book for Apress (Micro-ISV: From Vision to Reality) on how to start a self-funded startup, blogging here and at http://www.todoorelse.com, writing custom software applications for companies with needs and budgets and trying to remember what the words "time off" and "vacation" mean. He can be reached at [email protected].